Monthly Archives:
November 2011
Christmas is right around the corner!! Give the gift of health and wellness and buy a gift certificate for a friend. Get 50% off your next reflexology session with the purchase of a gift certificate. Contact me at jen@balancedroots.ca to … Continue reading →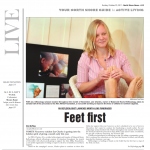 This gallery contains 2 photos.
Click on the images below to view the article from the North Shore News.